Causes of depression
There are a number of causes and here are the main ones:
Leading a depressing life
Having problems we can't fix
Not looking after yourself physically (eating, sleeping, exercising etc.)
Being genetically predisposed to depression
Going through one or more traumatic experiences
Bereavement, or the break up of a relationship
Social isolation, lack of friends
Arguments
Being inclined to see things in a depressing way
Some people tick all of those, that is not uncommon. But just one can be sufficient to cause a high degree of depression. This website addresses all of these causes.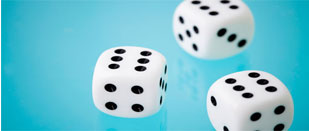 Activity Decider
MoodMaster provides you with an activity decider, like a dice, for when you know you should do something but can't think what.
Relaxation Audios
There are three different relaxation methods to ensure you have one that suits you.